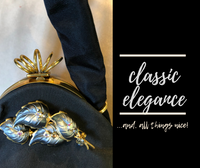 SUGAR AND SPICE
We design and create one-of-a-kind accessories for all of your special events. 
new - vintage - upcycled - consignment
View our collections. Watch us evolve. Celebrate our creativity. Share our passion.  
We are in the studio daily and update our site weekly with new additions and seasonal collections.